There are many cases where cabinets need to be hidden or mounted in cupboards, alcoves, against bulkheads aboard ships or lorry sides but still giving rapid access to the rear for easy maintenance. The EXTENSIS RANGE is our solution to such requirements.

The basis of the rack is a very strong base formed from welded aluminium tubes equipped with high quality telescopic slides. On this base is mounted a rigid aluminium frame as used in the EIKON II Range for the mounting of equipment.

Details of these frames are given on the second EIKON II accessories page.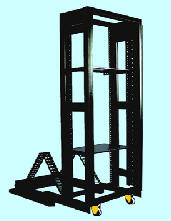 We also offer a wide range of accessories which can be factory fitted to save installation time on site.
Two standard bases have been developed which are both 600mm wide with depths of either 500mm or 600mm.

Extension is normally 1.5mm times the telescopic slide length plus 15mm. The two bases give extension of 765mm on the 500mm deep and 840mm on the 600mm deep.

All units have front mounted castors to enable greater weights to be carried. Where units are mounted above ground level extensions for castors are supplied to meet the exact dimensions required. This system negates the need for special tracks or supporting platforms.

Because of Xixin's unique method of construction special sizes can be quickly manufactured. (We have recently delivered a special shallow and wide rack to exact customer specification.

The photographs below shew the cabinet specially designed to fit into a shallow alcove in a listed building.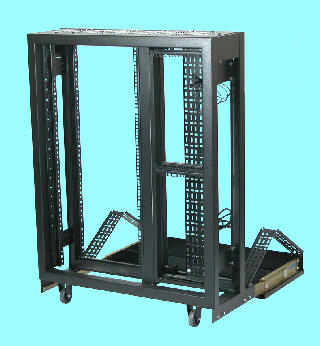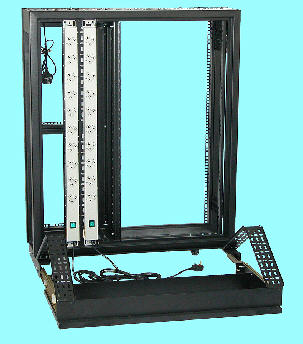 XIXIN LTD Bilton Way Luton Beds LU1 1UU
TEL: 01582 400340. FAX: 01582 481498.
EMAIL: sales@xixin.co.uk WEB: xixin.co.uk